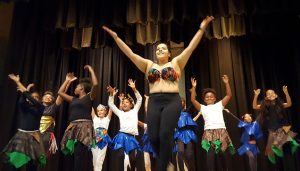 Jessica Recinos
Choreographer and Dance Instructor
Jessica is a dancer, dance coordinator, choreographer and "artivist" who was born and raised in San Francisco, CA. She is the founder of Rising Rhythm Project SF, a collective of diverse dancers and musicians performing throughout San Francisco's Bay Area. Jessica is an experienced dance teacher for youth and adults and teaches full-time throughout the Bay Area, including with Alonzo King LINES Dance Center, Loco Bloco, Dance Mission, and a number of San Francisco public schools and after-school youth programs. She has trained and danced with some of the San Francisco Bay Area's most respected Global Street Dancers, such as Allan Frias of Mind Over Matter, Rashad " Soul Nubian" Pridgen and Jocquese Whitfield.  She is also a member of the Bay Area vogue performing group, House of Prolific. She has appeared in music videos for local Bay Area artists such as Los Rakas, Favi Estrella, Ms Haze, Zivia Walker and Macka. Through her classes, Jessica helps youth to participate in the arts, express themselves through creative movement and strive to become next level dancers.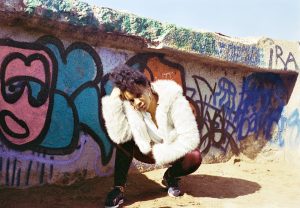 Brandie Norris
Dance Instructor and Choreographer
Brandie is a dance performer, singer and songwriter as well as teaching artist. Training as a gymnast and cheerleader in her youth, she grew to be a passionate dancer and teacher who works with youth and adults at Dance Mission and TruDance, and through private lessons. She has danced in various music videos and has performed with many choreographers, including the Sarah Bush Dance Project.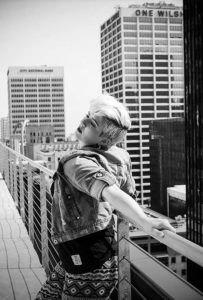 Angelina Labate
Dance Instructor and Choreographer
Angelina is a choreographer, dancer, documentarian, teaching artist and the Founding Director of Snowflake Productions which "celebrates dance communities and their stories through choreography, videography and photography." She holds an African Heritage Dance Certificate from City College of San Francisco and a B.A. in World Arts and Cultures/Dance with a Minor in Visual and Performing Arts Education from UCLA. She has traveled to many places in the U.S. and abroad to dance with, document, observe and learn from some of the most inspiring artists in the street and club dance scenes.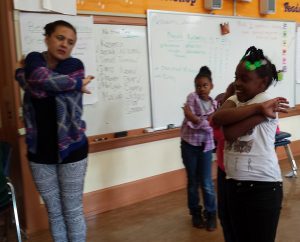 Nicole Klaymoon
Dance Instructor and Choreographer
Nicole is the Artistic Director-Founder of the acclaimed EMBODIMENT PROJECT, a dance company, which creates public performances incorporating street dance, live song, choreo-poetry, theater, and interactive video to express poignant social justice narratives. Dance magazine contributing editor Rita Felciano called Embodiment Project one of the Bay Area's, "ten companies and artists who challenged expectations and unveiled surprises…in 2012." Nicole's company performs at numerous festivals including, Marc Bamuthi Joseph's Left Coast Leaning Festival, ODC's Walking the Distance Festival, Oregon Shakespeare Festival's Green Show, and various venues and events across the country and Europe including the Hip-Hop Theater Festival in New York and DC, Miami Project Hip-Hop, Illadelph Legends of Hip-Hop Festival in Edinburgh Fringe Festival in Scotland. Nicole's company has also partnered with G.R.A.C.E Africa to facilitate a performance training in Embu, Kenya to promote self-awareness, healing, and empowerment through education around the HIV/AIDS virus, sponsored by the Oregon Shakespeare Festival's Daedalus Project. Nicole is currently is on the faculty in the dance department at Marin Academy, and hosts the REBIRTH, a street dance event sponsored by Ford Foundation and La Peña Cultural Center. She teaches community dance classes at Dance Mission Theater in San Francisco. Nicole received a B.A. in dance from UCLA.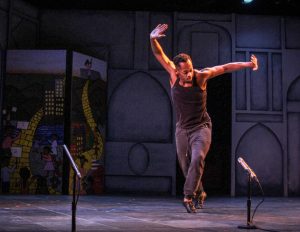 ArVejon Jones
Dance Instructor and Choreographer
ArVejon began taking Tap, Hip Hop, and West African at "Kennedy Universal Dance Designs" in Los Angeles, CA, where he studied for 13 years as a child. He is a member of the Sean Dorsey Dance and performed the highly acclaimed "Missing Generation" on the company's 20-city tour during 2015-2017. His performance in Dorsey's production of "Boys Bite Back" earned him a 2018 Isadora Duncan Dance Award nomination for Outstanding Achievement in Performance. In addition to dancing with Jean Appolon Expressions, and Prometheus Dance in Boston, ArVejon has worked with ODC on a touring production, with SoulSkin Dance in their home season at the Joe Goode Annex, he's been featured in "AM/FM," a film that premiered at the San Francisco Dance Film Festival, choreographed by Robert Moses, and he performed with PUSH Dance Company in Atlanta. He has performed works by KT Nelson, Brenda Way, Kimi Okada, Kat Roman, Robert Moses, Ray Tadio, Dexandro Montolvo, Natasha Adorlee Johnson, Breton-Tyner Bryan, and Raissa Simpson, among others. As a teaching artist, ArVejon has taught students in Dr. Albirda Rose's Village Dancers at the African American Art and Culture Complex and worked as the Lead Teaching Artist with the Boston Ballet's Educational and Outreach Program. He also teaches group fitness classes in San Francisco, Boston, and Philadelphia, and holds a BA in Dance and a Minor Degree in Japanese from San Francisco State University.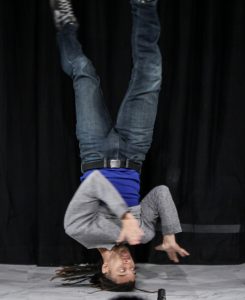 Danté Rose
Dance Instructor and Choreographer
Dante is a member of both the Embodiment Project, performing art company, and the Soul Shifters artist collective. He is the founder of the event- ONLY Allstyles- the biggest mixed style competitive dance gathering on the West Coast. He has performed, competed and won in many high profile events around the globe – including a 2016 tour throughout Europe and a dance competition in Russia. He has appeared in many widely distributed music videos, including under his own label, Earthtone. Dante understands the healing power of art which he strives to impart to youth.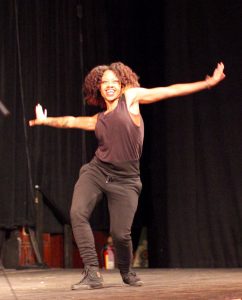 Amber Julian
Dance Instructor and Choreographer
Amber is a native of the California Bay Area, and works as a professional dancer with background and primary training in Musical Theatre, Hip Hop, and contemporary dance. She was blessed to have discovered her passions at a very young age because her family comes from a generation of artists. She started dancing in Mixd Ingrdnts Dance Company in 2013, a fierce all-female collective group of artists who performed various styles of contemporary dance. She currently dances in the dance theatre company, Embodiment Project, founded by Nicole Klaymoon, whose mission is to use the art to create emotionally transparent narratives that serve as vehicles for social change. With the company, Amber has performed at several large events, including the Oregon Shakespeare Festival, SF Hip Hop International Dancefest, Headlands Center for the Arts Open House Showcase, Carnaval, Dance Mission Theatre, Yerba Buena Center for the Arts and full length sold-out shows at Laney College.
Amber's appearances in 2017 range from Oregon Shakespeare Festival, to the Elizabeth Stage in Oregon, and film performances featured at the San Francisco Dance Film Festival, as well as a wide array of work locally; including the San Francisco Trolley Dances, the Transform Festival at Yerba Buena Center for the Arts, the Yerba Buena Gardens Festival, as well as with Topsy Turvy Circus in Oakland.
Amber believes that art is all about exchanging deeply rooted energy in order to make change and exude dynamic forms of expression, and she has brought this focus to her work with youth. She has worked in violence prevention advocacy, and has worked in non-profit settings, serving as an event coordinator, group facilitator, and mentor to young people, providing positive recreational activities for them to take advantage of. She also teaches dance with Destiny Arts and California Academy for Performing Arts. Ashé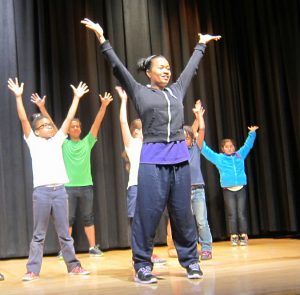 Raissa Simpson
Choreographer and Dance Instructor
Raissa has had an extensive performance career in the San Francisco Bay Area dancing with Robert Moses' Kin and Joanna Haigood's Zaccho Dance Theatre, among others.
As a freelance artist, she danced with Lucas Films, Tori Quinn at BAPC, Alleluia Panis Dance Theater, Capacitor, Flyaway Productions, Liberation Dance Theater, Michael Mayes, and Peninsula Ballet. Along with serving as Assistant to the Director at Zaccho Dance Theatre, she is featured as a dancer in the film "Never Stand Still," at Jacob's Pillow.
Raissa founded PUSH Dance Company to present vibrant contemporary dances that provide audiences an opportunity to examine issues of identity and intersecting cultures that surround and affect us all. Raissa's pieces and site-specific installations have been performed at such venues as Washington Ensemble Theater, Black Choreographers Festival, Joyce SoHo, ODC, CounterPULSE, Dance Mission Theater, Evolve Dance Festival, Buriel Clay Theater, APAP/NYC, American Cancer Society's Relay for Life, 418 Project in Santa Cruz, Museum of the African Diaspora, and Union Square Live. PUSH has presented consecutive home seasons in San Francisco since 2005.
Raissa's PUSH Dance Company's teaching, speaking ,and guest choreography engagements include Stanford University, UC Santa Cruz, San Francisco State University, The Medea Project/ San Francisco County Jail, 3rd St Youth Center & Clinic, Valley Christian High School, Studio 10, Dance/USA panel, 20/20 Vision at Novellus Theater (curated by Marc Bamuthi Joseph), Social Media Summit, and National Dance Education Organization.
Raissa began training in San Jose, California at Dance Art Studio and later continued onto San Jose Dance Theatre, Cleveland Ballet, Central Pennsylvania Youth Ballet, Dance Theatre of Harlem, and the Paul Taylor School. She received her BFA from the Conservatory of Dance at SUNY Purchase.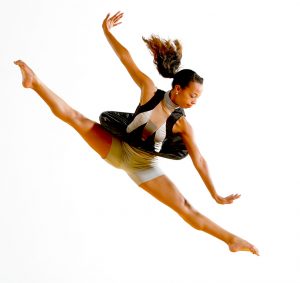 Ashley Crockett
Dance Instructor and Choreographer
Ashley is a company performing member artist and dance instructor with PUSH Dance Company. She performed in PUSH's World Premiere of "Point Shipyard Project" at the Museum of the African Diaspora in San Francisco. At the University of California, Irvine (UCI), Ashley was accepted into the Jazz Ensemble, led by Sheron Wray, and was a member of the non-profit organization Bare Bones Dance Theater. She trained in various styles and worked with Loretta Livingston, Jodie Gates, Molly Lynch, Donald McKayle, and Tracy Bonner. Ashley produced 3 pieces performed at UCI. She is also a member of Soulcletic Roots Dance Company led by Jannet Galdamez as well as studies and performs with the Alayo Dance Company under the direction of Ramon Alayo. In addition to training and performing, Ashley teaches dance classes throughout the Bay Area., Ashley graduated from the University of California, Irvine with a B.F.A. in Dance-Performance and a Business Management Minor.