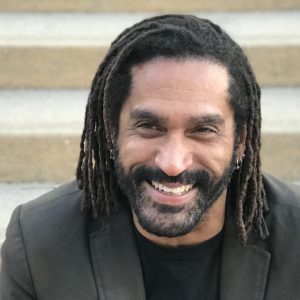 Terence Anthony
Playwright
Handful Players' 2019/2020 season
Terence is a playwright, artist, and communications specialist based in Oakland, CA. His work explores the American past, present and future through a critical lens of race and class. Terence has been awarded writing fellowships to the Virginia Center for the Creative Arts, Ragdale Foundation and the Santa Fe Art Institute. Terence's plays include THE HOUSE OF THE NEGRO INSANE (Bay Area Playwrights Festival, 2019 + PlayPenn New Play Conference, 2017), BURNERS (nominated for four 2017 Ovation Awards), EUPHRATES (Max K. Lerner Playwriting Fellowship, 2013) and TOMBOLO (Finalist for the O'Neill National Playwrights Conference, 2012). Terrence is a member of the Dramatists Guild, Chicago Dramatists, the Playwrights Union, Moving Arts Theatre Company and the Antaeus Playwrights Lab.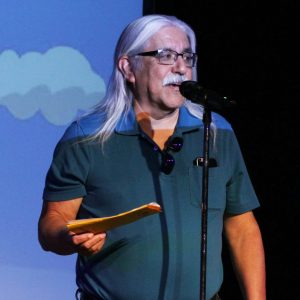 Roy Conboy
Playwright
Handful Players' 2017/2018 season
Roy Conboy is a writer, director, and teacher of Latino/Mixed Blood descent. For more than 20 years, he has been the head of the Playwriting Program at San Francisco State University. His most recent play is "In Hollow Time: A Sung/Spoken Opera on the Recession", which was developed and produced at San Francisco State in 2014. Prior to that, his play, "My Tía Loca's Life of Crime", was presented as a staged reading at Breath of Fire Latina Theater Ensemble in Santa Ana, CA, and subsequently produced at Bindlestiff Studios in San Francisco in May 2012 by Guerrilla Rep. His children's plays, "Hot Tamale/Tamale Caliente", and "El Canto del Roble/The Song of the Oak", recently finished extended tours of Central California schools through PCPA Theaterfest of Santa Maria. Other recent plays include "The Journeys of the Angels", "Tailor From Chihuahua", and his solo show, "Drive My Coche", all of which were originally produced by Teatro Esperanza in San Francisco. Other plays, such as "When El Cucui Walks" and "Dancing With the Missing", have also been produced extensively.
As an educator, Roy has helped raise the SFSU Graduate Playwriting Program to national prominence. He has created numerous opportunities for student writers, including GreenHouse, an educational/professional partnership producing off-campus workshops of graduate student plays; and the SFSU Fringe, which has annually produced multiple plays by student writers for more than 15 years. Students from the playwriting program have gone on to numerous honors and productions in the Bay Area and beyond, including national and international awards. His former playwriting students include, among many others: Marcus Gardley, Peter Nachtrieb, Lale Shafagi, Karen Macklin, Greg Beuthin, Alex Park, Brian Thorstenson, Prince Gomolvilas, Trevor Allen, Garret Groenveld, Rodrigo Duarte Clark, Elizabeth Gjelten and Claire Rice.
Roy holds an MFA in Performance from UC Irvine, where he was one of the first Latinos to enter and graduate from the program. He was a founding member of the multicultural ensemble Cucucuevez; served as Instructor and Director of the New Plays and Players Workshop at Santa Ana College; and as the General Manager and Casting Director of the Grove Shakespeare Festival in Garden Grove.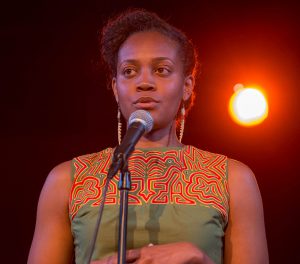 Chinaka Hodge
Playwright for Handful Players 2012 – 2017:
"Who's in Rabbit's House"
"Mufaro's Beautiful Daughter (and One on Fleek!)"
"The Nearly Fantastic Rise of Too Much"
"Jumping Jaq Fresh"
"One Radical Number"
Chinaka is a poet, educator, playwright and screenwriter who grew up in Oakland, California and worked for Youth Speaks for 10 years, rising to become Associate Artistic Director. In 2015, Chinaka was named the Associate Director of Programs and Pedagogy at Yerba Buena Center for the Arts. Chinaka is a 2015 Playwright in Residence at San Francisco's Playwrights Foundation and a 2013/14 Artist in Residence at Intersection for the Arts. Chinaka was selected a 2013 Fellow for Sundance Institute's prestigious Screenwriters Lab. She was the recipient of the 2012 Gerbode and Hewlett Foundations' Playwright Collaboration Award to create a new play with the multicultural ensemble Campo Santo – "Chasing Mehserle" which premiered at Intersection for the Arts before its national tour. Chinaka was the 2012 recipient of The San Francisco Foundation's Jackson Phelan & Tanebaum Literary Award for emerging artists. Chinaka graduated with a creative writing major from New York University's Gallatin School of Individualized Study, and was chosen the student speaker at the 174th Commencement exercise. She was awarded the prestigious Annenberg Fellowship by the NAACP and the CBS Television Network for her graduate studies at the University of Southern California's School of Cinematic Arts, where she received an MFA in screenwriting. Chinaka was a member of the U.S. Artist Delegation to the World Social Forum in Narobi, Kenya in early 2007. Her poems, editorials, interviews and prose have been featured in Newsweek, San Francisco Magazine, Believer Magazine, PBS, NPR, CNN, C-Span, and in two seasons of HBO's Def Poetry.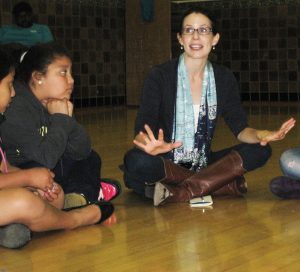 Lauren Gunderson
Playwright of "Science Girl Around The World"
Handful Players' 2011/2012 season
Lauren wrote "Science Girl Around the World" for Handful Players which highlights the magic and mystery of science. The play is filled with jazz music and was performed at San Francisco's Yoshi's Jazz Club in May, 2012. Handful Players received a Certificate of Honor from the San Francisco Board of Supervisors recognizing the production of this World Premiere of Lauren's creative play.
Lauren is a resident playwright at the Playwrights Foundation and is also a screenwriter and short story author and writes for The Huffington Post. She teaches and speaks on the intersection of science and theatre. Her work has received national praise and awards including the Berrilla Kerr Award for American Theatre, Global Age Project, Young Playwright's Award, Eric Bentley New Play Award and Essential Theatre Prize. She received her MFA in Dramatic Writing at NYU Tisch School, where she was also a Reynolds Fellow in Social Entrepreneurship.
Her musical, "The Amazing Adventures of Dr. Wonderful and Her Dog!" for The Kennedy Center premiered in October, 2011. She has commissions for 2 additional musicals with The Kennedy Center, a musical with Harry Connick Jr., and new plays for South Coast Rep, Marin Theatre Company, and SF Playhouse. She has developed plays with Second Stage, Red Bull, and Primary Stages in NYC; New Rep in Boston; Playwrights Foundation, Crowded Fire, TheatreWorks, Aurora Theatre, and The Magic Theatre in San Francisco; Kitchen Dog Theatre in Dallas; Synchronicity, Actor Express and Horizon Theatre in Atlanta; JAW at Portland Center Stage in Portland, and others. She received a Sloan Science Script Award (2008) for her screenplay "Grand Unification" and her short story, "The Ascending Life", won the Norembega Short Fiction Award and was published in the anthology, The Shape of Content; her science play "Background" was published in ISOTOPE: A Journal of Nature and Science Writing. Her string theory poem "Hook of a Number" was published in the anthology Riffing On Strings.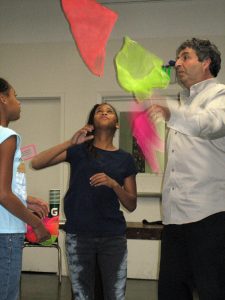 Jeff Raz
Playwright of "An Appetite for Books"
Handful Players' 2010/2011 season
The play pays homage to Marcus Books, in San Francisco and Oakland, on its 50th anniversary as the oldest African American bookstore in the country and its founders Dr. Raye and Julian Richardson. The play introduces the children of San Francisco's Western Addition community to the rich history found in this special space as they meet ghosts of Marcus Garvey and Martin Luther King, discover folktales that leap off the shelves, and find the space filled with the music of Mahalia Jackson, Bob Marley, and other blues, jazz, gospel, and civil rights songs. Ultimately, they learn the lessons of being at Crossroads, Overcoming, and maintaining Dreams. The play was performed at San Francisco's Yoshi's Jazz Club in May, 2011.
Jeff is the founder of the Clown Conservatory, the only comprehensive professional clown training program in the United States. His 35-year career has taken him from remote Alaskan villages to Broadway, across the United States and to Europe and Japan. In 2007, Jeff spent the year touring the U.S. as the lead character in Cirque du Soleil's "Corteo". In 2009 and 2010, he went on tour, reprising his role in Nagoya and Osaka, Japan. A graduate of the Dell'Arte International School of Physical Theater, Jeff has also performed with The Pickle Circus, Vaudeville Nouveau and Make*A*Circus and in such theaters as Berkeley Repertory Theater, The Goodman Theater in Chicago, Marin Theater Company, The Kennedy Center, TheaterWorks of Palo Alto, The San Francisco and Marin Shakespeare Festivals, and Lincoln Center Theater in New York. In addition to performing, Jeff has written 12 plays, including adaptations of Oedipus the King and the Book of Esther and two solo plays, Father-Land and Birth Mark. He has directed shows for Make*A*Circus and the Pickle Circus, a number of puppet plays for Lunitique Fantatique and The Bright River, a hip-hop retelling of Dante's Inferno, at A Traveling Jewish Theater.
Mr. Raz has taught physical theater and circus arts at universities, conservatories and arts high schools around the country, including the Tony-award winning American Conservatory Theater's MFA program and seven years with the Artist Diversity Residency Program at the University of Nebraska, Lincoln. In 2001, Jeff helped create the Institute at the Julia Morgan Center for the Arts based on the Lincoln Center Institute model of arts education, and worked in classrooms and trained classroom teachers at the Institute for 5 years. And Jeff juggled with the Handful Players!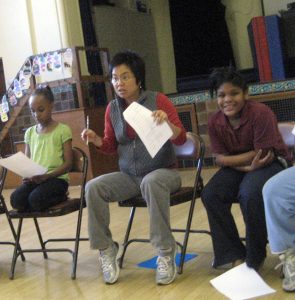 Eugenie Chan
Playwright of "Rainbow in Your Corner"
Handful Players' 2009/2010 season
The play highlights how the children of San Francisco's Western Addition community meet the legendary John Muir and discover and learn to preserve the natural beauty of the neighborhood; the play is filled with classic jazz, soul, and gospel music and original lyrics. The play was performed at San Francisco's Yoshi's Jazz Club in May, 2010.
Eugenie is a 4th generation San Franciscan whose plays are a creative blend of language, reality, tradition, and history. Eugenie has received commissions from the Magic Theatre/Sloan Science Initiative and Cutting Ball Theatre; awards from Mixed Blood Theater and New York University; and grants and fellowships from several foundations. In the Bay Area, she has worked with the San Francisco Mime Troupe, the Magic Theatre, Thick Description, Brava! For Women in the Arts, and the Bay Area Playwrights Festival. Nationally, her award-winning plays have been presented at the Public Theatre, the Northwest Asian American Theatre, PlayLabs and other prestigious theatres. Eugenie is a member of the Dramatists Guild, a resident playwright at the Playwrights Foundation, and an Associate Artist at Cutting Ball Theatre. She is a professor in the theater program at the University of San Francisco. She holds a B.A. in Literature from Yale and an M.F.A. from NYU's Dramatic Writing program.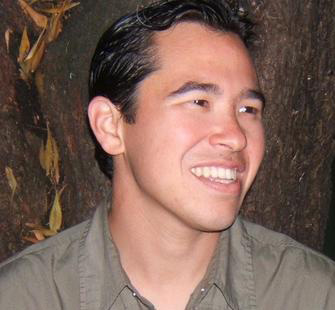 Andrew Saito
Playwright of "Evolve!"
Handful Players 2008/2009 and 2011/12 seasons
The lyrical play, Evolve!, was inspired by Barack Obama's presidential nomination and election and is set in prehistoric times. In 2009, Andrew received a Certificate of Recognition from the California State Senate for the World Premiere of "Evolve!," which was performed by Handful Players at seven community events, including at San Francisco's Yoshi's Jazz Club and at the Mayor's Youth Showcase in San Francisco's City Hall.
Andrew also wrote 7 five-minute plays based on international fairy tales on the summer reading list of MoMagic's Western Addition Youth Program for the children to perform at 2011 summer showcases. In addition, Andrew wrote 3 five-minute plays in 2012 for the students in Spring Valley Science Elementary School to perform based on Gold Rush and Nutrition books studied in class.
Andrew is a poet and playwright who worked with the San Francisco Mime Troupe, the Asian American Theater Company, WritersCorps, Performing Arts Workshop, Montalvo Arts Center, and the legendary Peruvian theatre collective Yuyachkani. Andrew was awarded a Fulbright Fellowship in creative writing in 2012, was a finalist for a Princess Grace Playwriting Award, and completed a fellowship and Masters of Fine Arts at the University of Iowa Playwrights Workshop. Andrew was selected by the San Francisco Foundation in 2011 as a multicultural fellow.
He is currently a resident playwright at the Playwrights Foundation. His plays include La Lechera, El Río, finalist for the Princess Grace Award, Krispy Kritters in the Scarlett Night, featured at Cutting Ball Theater's 2011 Risk Is This…Festival, and The Patron Saint of Monsters, selected for a 2012 Core Apprentice developmental reading at the Playwrights Center of Minneapolis, and scheduled for it's world premiere in 2013 at Cutting Ball Theater. Other presenters of his plays include the Bay Area Playwrights Festival, Brava! for Women in the Arts, Kearny Street Workshop, Asian American Theatre Company, La Peña Cultural Center, and Mixed Phoenix Theatre Company in New York.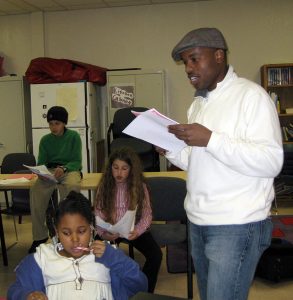 Marcus Gardley
Playwright of "The Fillmore Five: a jazz musical in rhapsody"
Handful Players 2007/2008 season
Marcus interviewed 11 renowned jazz musicians (all ages 60-85) to create this musical play celebrating the lives of these jazz legends and the heritage of jazz in San Francisco's Fillmore District. The play was performed at several jazz community events, including the Opening of Jazz Heritage Center and the Jazz Legends Concert. In 2008, Handful Players received a Certificate of Honor from the San Francisco Board of Supervisors recognizing the production of this World Premiere of Marcus's play at San Francisco's Yoshi's Jazz Club.
Marcus is an award-winning poet/playwright who won the prestigious 2008 Helen Merrill Award. His play, "Love is a Dream House in Lorin," was nominated for the National Critics Steinberg New Play Award. He is a 2007 Kellsering Honoree and the recipient of the San Francisco Bay Area's Gerbode Emerging Playwright Award, the National Alliance for Musical Theatre Award, a Mid-Atlantic Arts Foundation Grant, a playwriting residency from the National Endowment for the Arts/Theatre Communications Group, plus many other awards. He has received commissions from the New York State Council on the Arts, Berkeley Repertory Theatre, Playwrights Horizons, Shotgun Players, South Coast Repertory, Arena Stage, Yale Repertory Theatre, and many others. He holds an MFA from the Yale Drama School. Marcus was chosen as one of 50 Writers to Watch by Dramatists Magazine. He is a professor of African-American Theater and Playwriting at the University of Massachusetts.